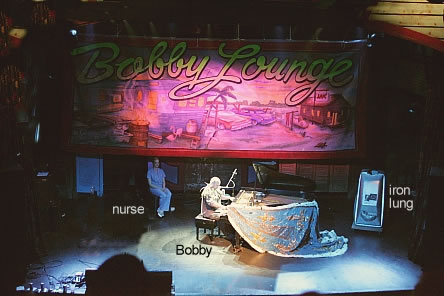 What is the Bobby Lounge Iron Lung Tour? The tour usually consists of a troupe of 3 individual talents:
Bobby Lounge - see above

Gina and Fats Domino, Feb. 2006

Gina and Irma Thomas Feb. 2006

Nurse Gina Pontevecchio - she has been described as "a lithe blonde in blue medical scrubs whom he called his muse, his comfort and a bona fide contortionist;" Bobby always travels with a nurse. While not attending to Bobby's needs, Ms. Pontevecchio enjoys reading and working out at the gym.
Prof. Calvin Tubbs, The Toastmaster - imagine Ed Sullivan mating with Huey Long - Bobby's biggest fan introduces the audience to Bobby after several electrifying proclamations.
---
Notes from John Preble, manager of Bobby Lounge
I first saw Bobby Lounge perform in concert in New Orleans in the early eighties. He came with a large entourage and gave what I thought was an incredible performance. Months after this show, we became friends and we discussed the idea of Bobby developing an entertaining night club show. I also encouraged him to continue to write and we began recording his music on simple home audio cassette recorders. Unfortunately, Bobby became ill (chronic fatigue syndrome)and could not perform publicly. Now, after over 20 years, he has learned to "manage" his health problems and he will performing a few shows during 2006.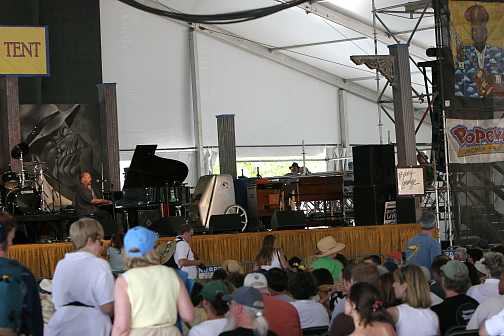 Bobby Lounge at the 2005 New Orleans Jazz Festival with his iron lung